Custom Calligraphy Quote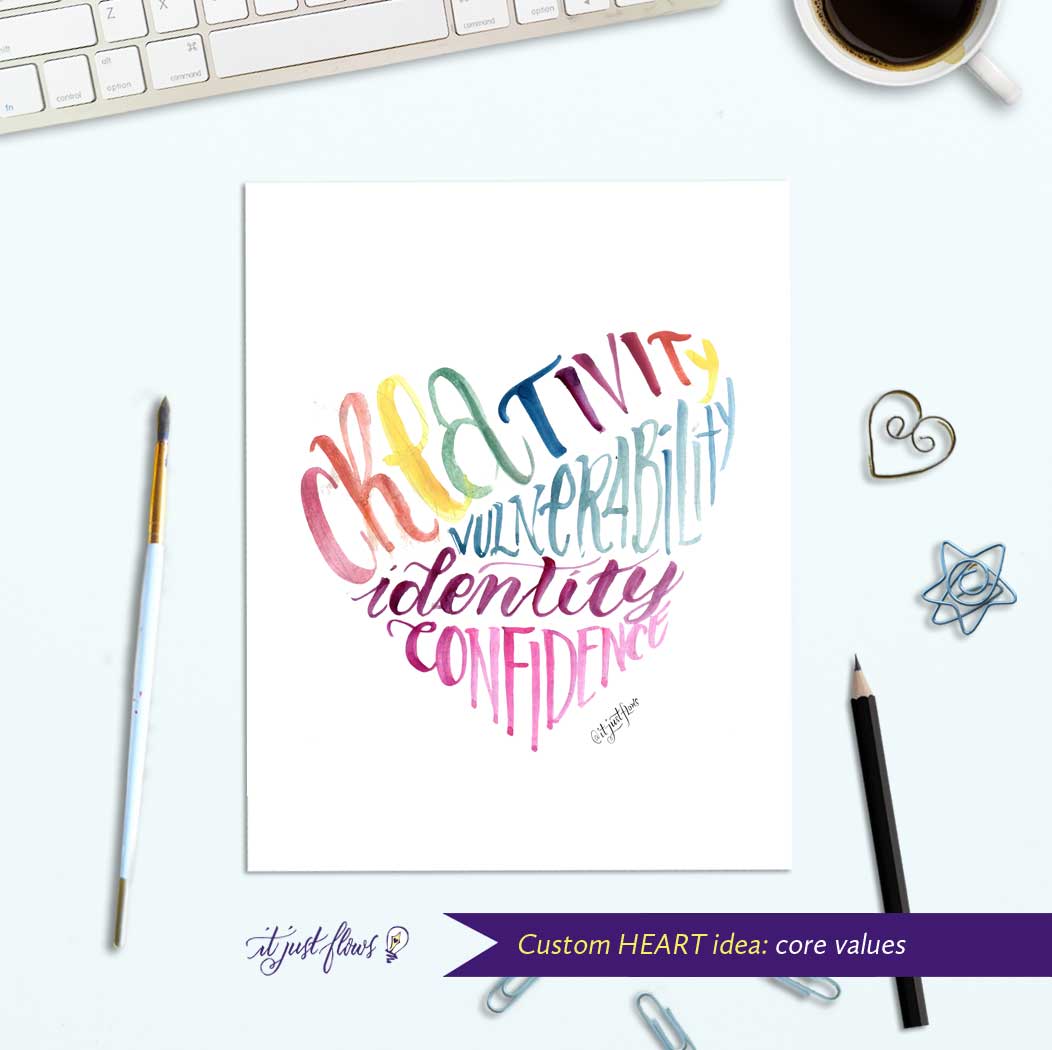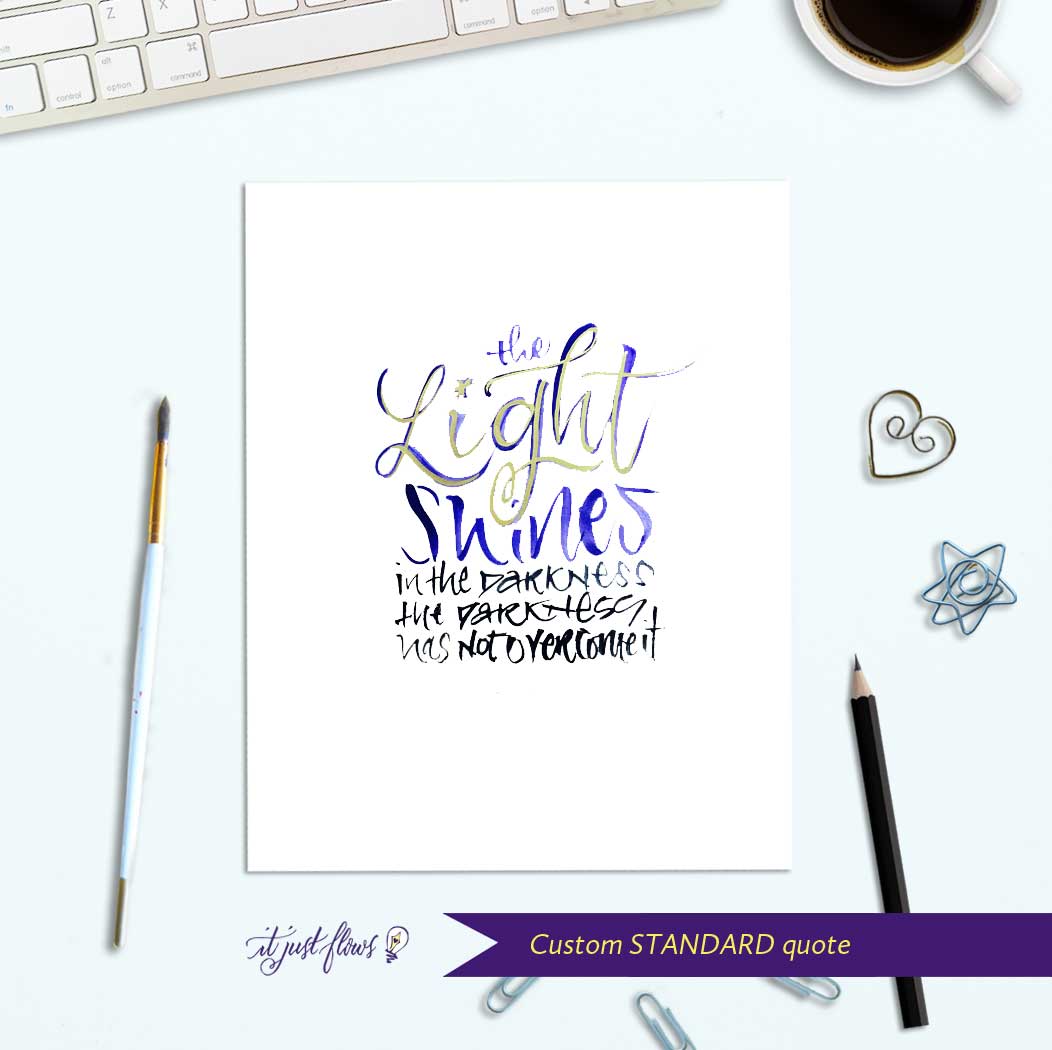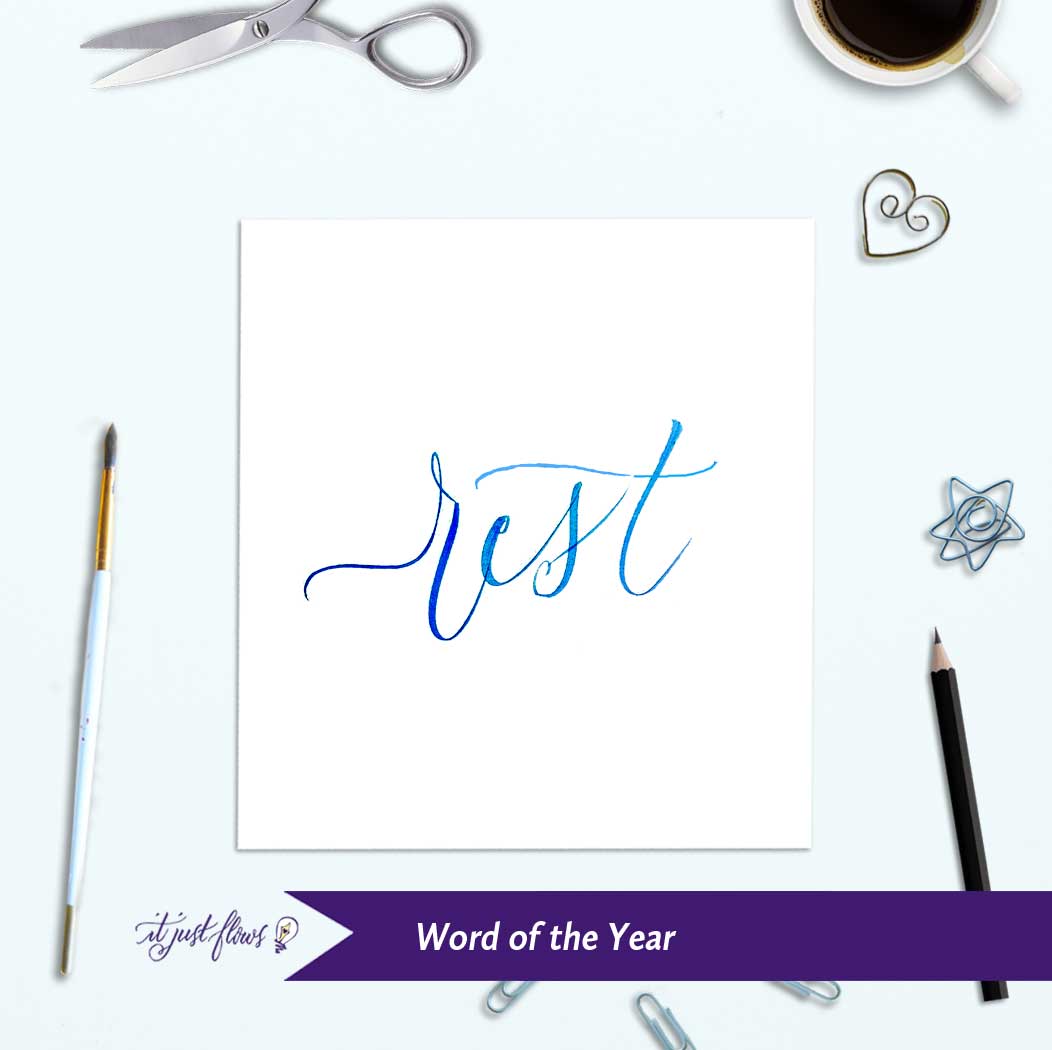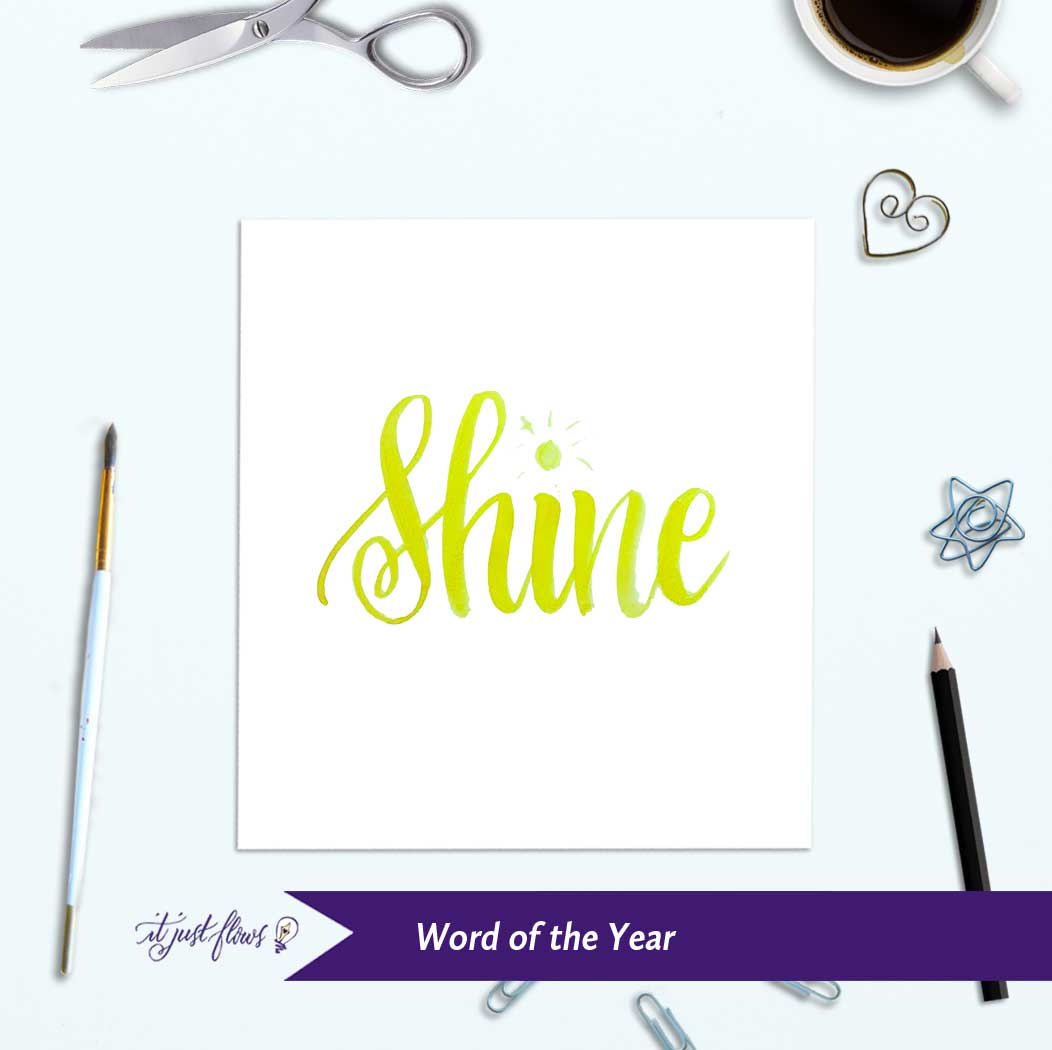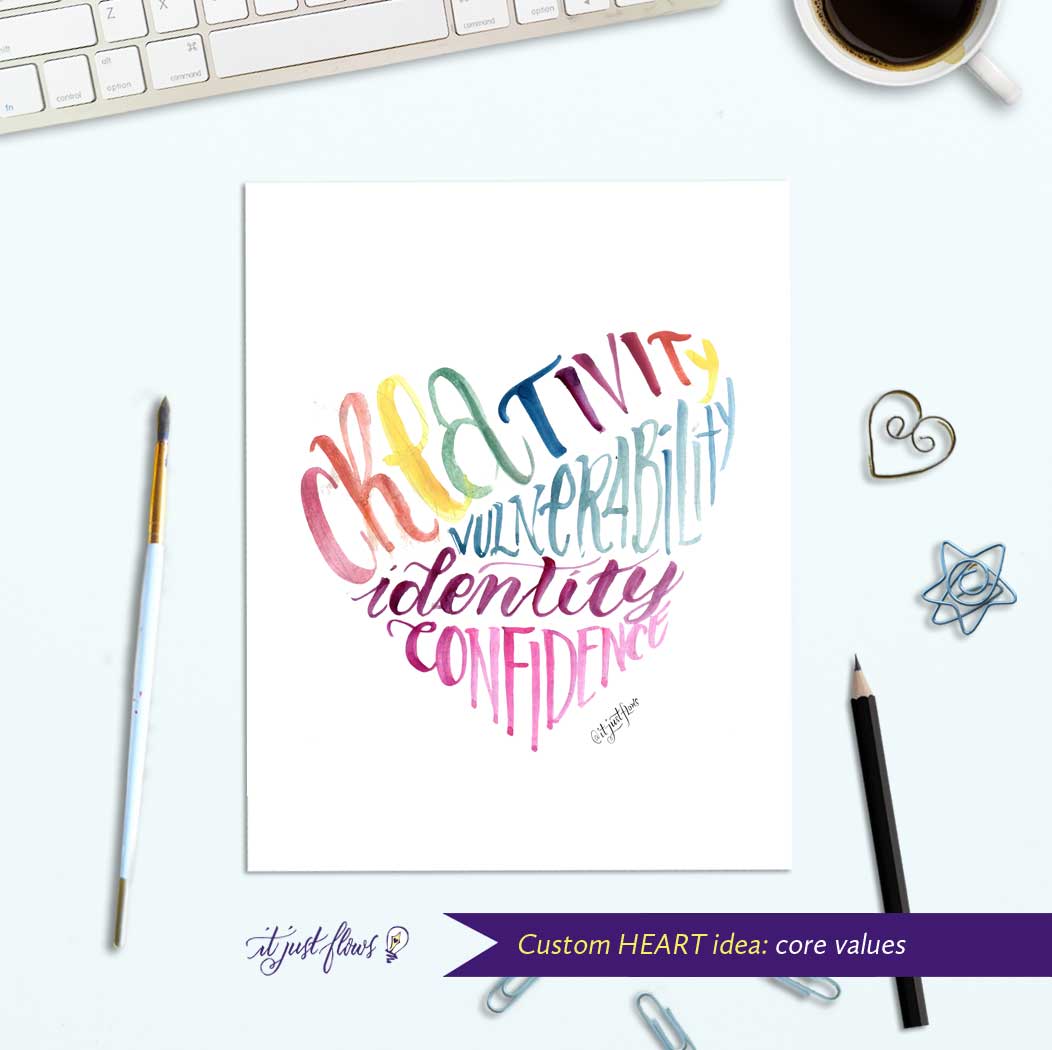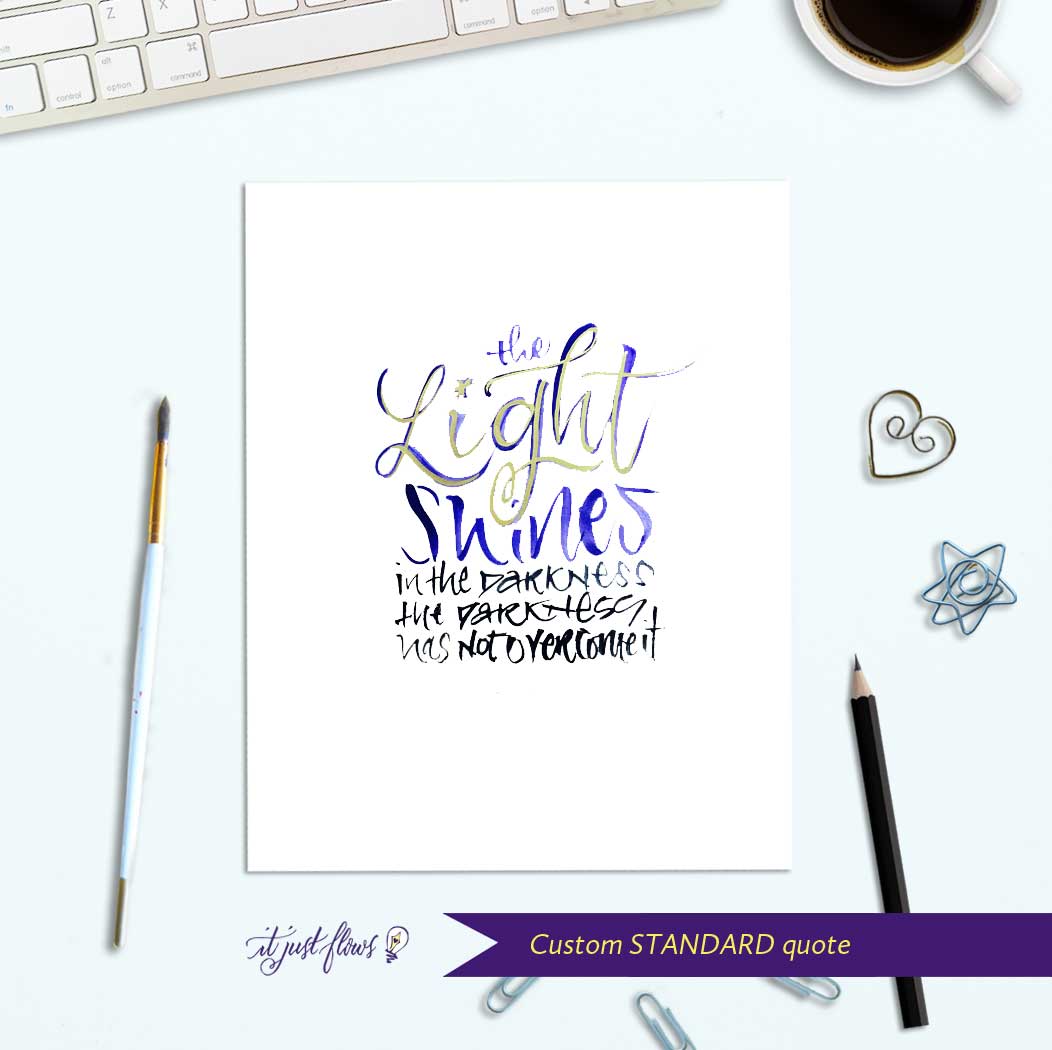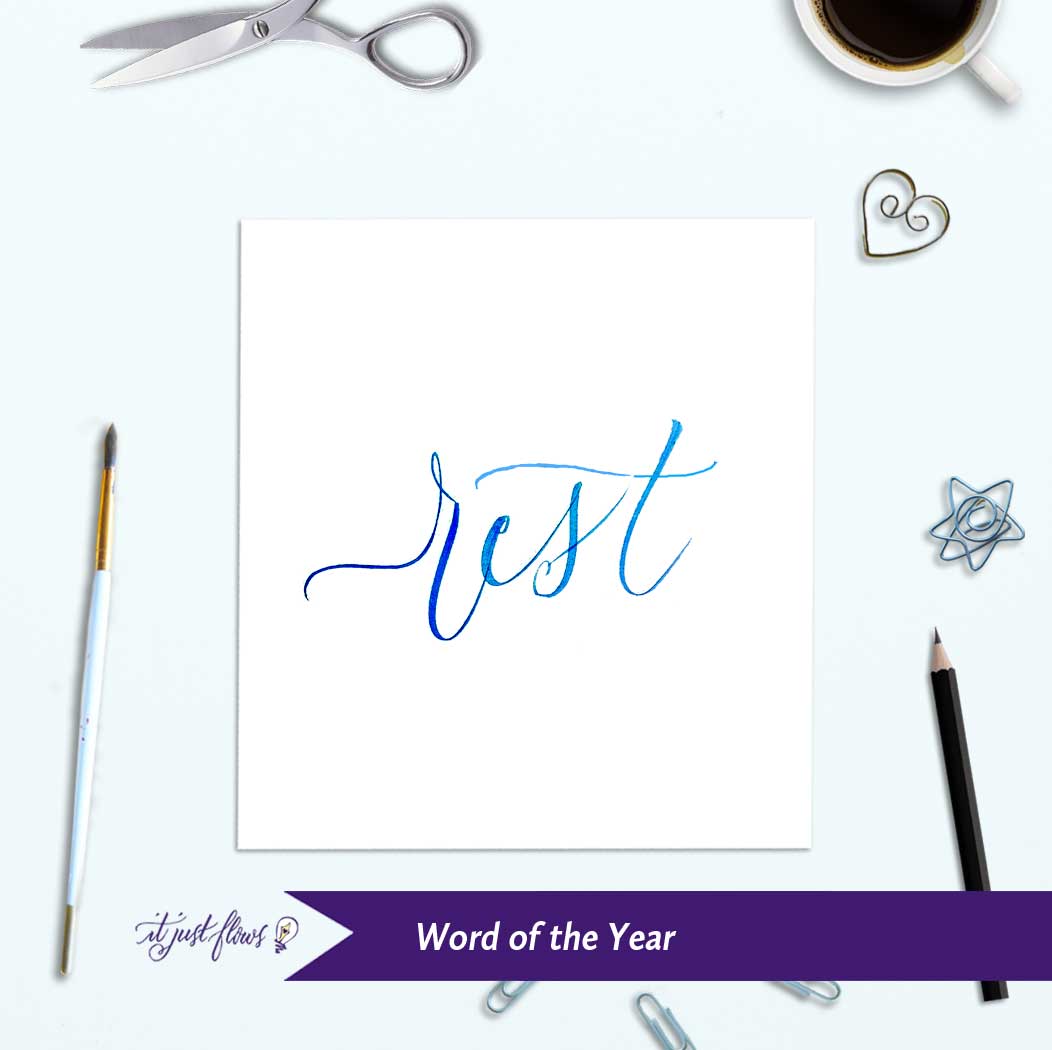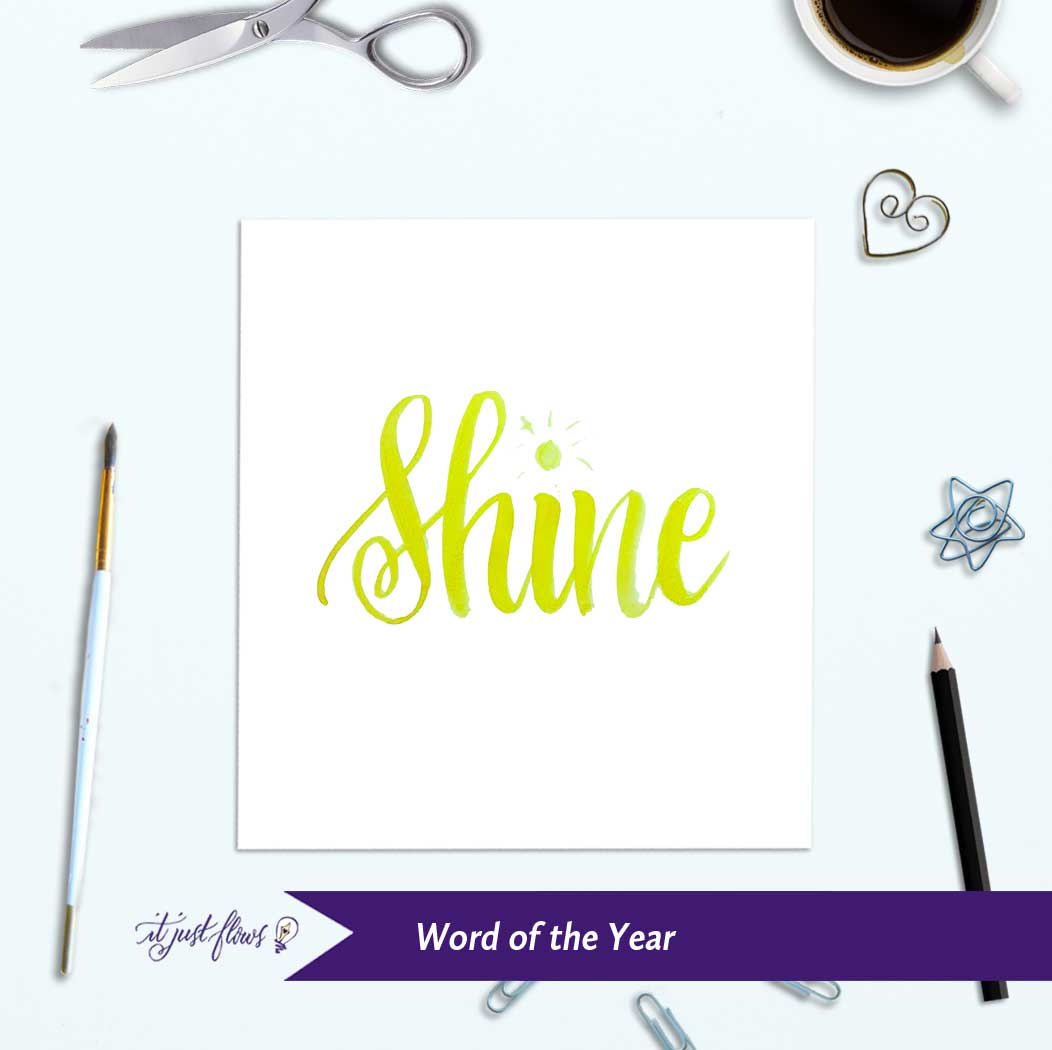 Custom Calligraphy Quote
A custom calligraphy piece with a quote of your choice of Black & White or Color. Available in a heart-shape, circle-shape, or standard linear layout.
Choose your favourite inspiring quote for this custom quote written in brush calligraphy by It Just Flows Calligraphy in a heart shape, circle shape, or standard linear layout (scroll images for samples).
Having inspirational words of your choice will give your heart the boost of encouragement it needs as you seek to take bold, courageous action, to live the life you are destined for.
This listing is for one PRINT in your choice of size (8x10 or 11x14 or 18x24) to fuel your heart with inspiration in your home or office space. These standard sized prints are easy to finish with ready made photo mats and frames from your local art supply store (or even some dollar stores).
This listing is for a PHYSICAL PRINT that will be mailed to you (in other words, this is NOT A Digital Download).
ITEM INFO:
This print is an originally created hand drawn piece with the quote and style preferences of your choice before being digitally reproduced

The artwork is scanned, and the digital file is then printed on thick 110lb card stock with a smooth matte finish

This print comes unframed, so that you have the freedom and fun of choosing how to display it in your space.
Please note that ink colours and those depicted on your computer screen can vary slightly.
DESIGN PROCESS:
I will ask you to share with me:
The Words/Quote you chose, and why it is meaningful or significant to you.

Layout shape you prefer (heart, circle, standard linear)

Any preferred colors (or classic black and white if that's more your style)

Orientation of the print (horizontal or landscape)
You'll have the opportunity to provide this info at checkout, but if you're not quite ready yet, don't worry. You can still purchase the listing and send the info by email when you're ready.
Once I receive all the information from you, I will get started on the design and let you know that it's in process of being created! Once complete I will send you a photo so you can get excited. I'll touch it up digitally, and then ship it to you

DESIGN GUIDELINES:
BE SPECIFIC: When you submit your design request, be specific with me about what really matters to you! The more info I can have about what you're looking for on the front end, the easier and quicker the design process will be for the both of us! That being said...

BE OPEN: If you're choosing me for your custom design, I hope it's because you're drawn to my unique lettering style! Together we co-create a piece of art together! You're bringing your story and words, and I'm bring the letters and design. I believe that together we can create something beautiful. With that in mind, please don't send me photos of other artists work and ask me to match their style. Be open to my style and design interpretation.

BE PATIENT: Custom orders take anywhere from 1-3 weeks to process. Then you'll have a chance to build more anticipation while it is shipped to you.
THE FINE PRINT:
This is a custom PRINT, not an original. It will be a high quality digital print, professionally printed on 110lb cover stock paper. This is due to finishing details digitally to make it the best it can be. If it's super important to you to have an original, please reach out and discuss with me.
This listing if for quotes 20 WORDS OR LESS. If you want a longer quote, please contact me about pricing for the additional design fee.
It Just Flows owns the rights to any and all final designs. As such, it's totally uncool for you to reproduce any designs without permission. If you'd like to order multiple copies of your print, please let me know and I would love to provide them for you at a great price point!
SHIPPING INFO:
To ensure that the print maintains its shape, it is packaged in a sealed protective plastic sleeve with cardboard backing before being inserted and mailed in a thick cardboard mailer, so that it stays flat during shipping. The 18x24 poster size will be rolled up and shipped in a firm cylinder container.

Please allow 1-3 weeks to create your design once the information details are received. Allow an additional 5-10 business days for actual shipping time to USA, and 5-21 days for International shipping.

Ships from a smoke-free, pet-free home in British Columbia, Canada

BUY ART, DO GOOD, FEEL GOOD, CHANGE THE WORLD.
I love creating words that fuel your heart and inspire your impact in the world. I believe as fellow human beings our hearts come a little more alive when we connect with a greater purpose beyond ourselves.
And because I believe in using our freedom for the good of others, I donate 10% of all proceeds to support the fight to end sexual exploitation and human trafficking. Through the work of Servants Anonymous, women who have been exploited (and their children) can rewrite the story of their lives from slavery to one of freedom and purpose.
Find out more about this amazing organization who has been in the trenches of this work for over 30 years and are active globally with a high success rate of freeing women, through their comprehensive long term recovery model.
When you purchase from me, you invest in the freedom of these women in starting a new life. Freedom-fighting looks good on you! :)
Find out more about how human trafficking happens and about their good work here: https://www.safoundation.com/
SPECIAL NOTE TO RESIDENTS OF THE USA:
Please note that all prices are listed in Canadian dollars (CAD). This means that once the conversion rate is applied to US Dollars, you will be essentially be receiving a discount equivalent to 25% off the price you see listed here (lucky you!). That "discount"/conversion will translate and be reflected on your credit card statement.
In other words, please note that the receipt you will receive from my shop's website will be listed in Canadian dollars (slightly higher) than what will be listed on your credit card statement. If you have any questions about this, please reach out to me.

CUSTOMER SATISFACTION:
If you have any questions at all, do not hesitate to reach out and connect with me.
If there is a problem with the order you receive, please message me with a conversation so we can work on a solution. In other words, please give me a chance to address it. For anything that is damaged, I will gladly replace your order, once I have proof of the damage.